It's not a finished quilt, but any finish in my book is a good one!
In an attempt to get my creative juices flowing on a more regular basis I've decided to jump on board with a new Block of the Month (BOM) project. I ended up choosing the Bay Area Modern Block of the Month. You can take a look at all the blocks
HERE
.
The first block up is the film strip block, which can be found
HERE
. I'm generally not a big fan of fussy cutting fabric as I like to really be able to see the fabric more as a whole. However, I am trying to branch out, so I jumped right in.
My first mission was to find some fabric in my stash with a small enough scale to cut down to 2 3/4" x 2 3/4". I thought that would be the easy part, but apparently I'm not a fan of small scale! I finally found this Alexander Henry fabric (I want to say it's called Starling from the Fashionista collection, but i will double check if anyone is interested) hidden in the back. I remember buying it forever ago not knowing what I would use it for, so it worked out perfectly.
After I cut out my ten little birdies I followed the super easy tutorial step by step until I had my strips. Sadly a few of my baby birdies lost their tails and/or heads. Oops! I think enough of them made it through unscathed to be a decent representation.
I really did try and move towards a different background color, but went back to my favorite Kona Solid, Coal. I went back and forth on the layout for a bit, but in the end I followed the leader (might be the first time ever).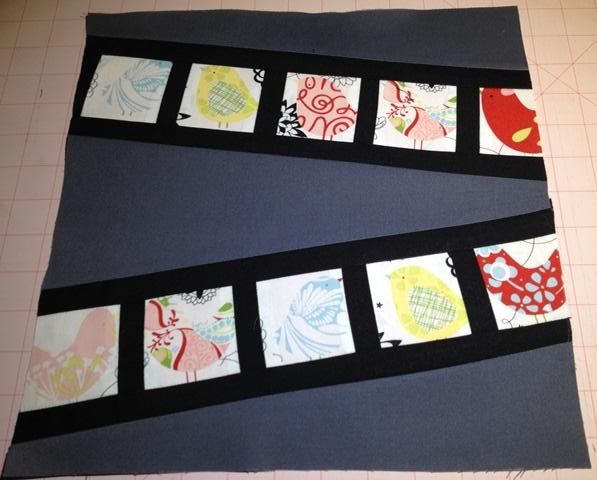 Ta Da, My very first Modern BOM! I must say, I wasn't sold on this, but now that I see it all together I really like it. I'm looking forward to the rest of the blocks, and the challenges that I'm sure will come my way.
Carly Ann
p.s. Not so shocking, I'm behind! If you are interested in joining in on the fun, the BAM-BOM #2 is already posted
HERE
! It's the feather block from Anna Maria Horner's amazing Feather quilt (tutorial and templates
HERE
. LOVE!